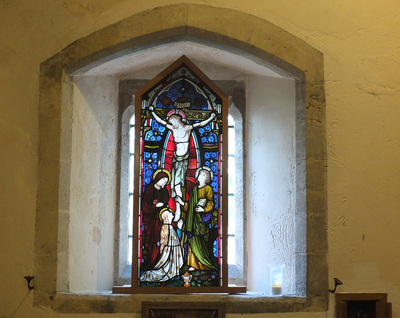 In 1849, the sum total of the interior decoration of our newly built Holy Trinity consisted of six stone heads and two stone angels. All the windows were clear glass. It was about 20 years later that the original East window was installed, a "drab, uninteresting and inartistic" affair pronounced the magazine in 1952, over 80 years later, eager to celebrate the replacement of the small panel of Victorian Gothic stained glass with Ninian Comper's majestic Christ in Glory. The 1952 writer admitted that "there will be some regrets in some hearts at the disappearance of the old window" but insisted that the 1870s, which is when the Holy Trinity vicar Arthur Dalton had the first East window installed, "was a very bad period of English glass and artistically it is a thoroughly bad window".
The old East window Crucifixion was packed away out of sight for 40 years until the reforming vicar Christopher Hewetson created the current Lady Chapel from the old vestry. At that point the 19th century Gothic crucifixion was exhumed and placed in its current position. It must have been in place for the first service in the new Lady Chapel on 2 May 1993.
Opinions change. In his parish letter of October 1992, Christopher Hewetson found the crucifixion "very beautiful. In all the churches I have worked I have never had such a lovely visual focus for worship and adoration as that panel". He recognised the stained glass as "an early piece by the most well-known of the 19th century glassmakers, Clayton and Bell, who were encouraged in their work by Gilbert Scott, the architect of the church". Clayton and Bell were known for creating strong colours with brilliant luminosity, using the best glass on the market. Christopher Hewetson had the Crucifixion framed to stand in front of the clear-glass window of the Lady Chapel after today's sacristy had been built and our current graceful organ installed, which cleared the space for the Lady Chapel to emerge.
The Lady herself stands draped in rich dark brown at the left of the cross, slumped in sorrow; John, swathed in two brilliant clashing greens, stands to the right; Mary Magdalene, whose flowing hair indicates her penitence, wears a white cloak studded with flowers and prays at the foot of the cross, her face lifted as it would be when the risen Jesus greeted her outside the tomb. Jesus hangs in a bell of colour (it is known as the vesica piscis) very like the bell Comper placed around his Christ of the Resurrection but coloured in the reds of tragedy. All the figures are cloaked in the sweeping robes of strong bright colour typical of Clayton and Bell, against a Victorian Gothic background of rich blue vine leaves. What on earth was the 1952 writer looking at when s/he wrote the window was drab and uninteresting?