The Eco Team have put together a list of interesting webinars on environmental issues from various sources, including the Church of England and the Oxford Martin School (part of Oxford University) – see below. Some are on church issues and others are of more general interest.
Between a rock and a wet place: putting carbon back into geological storage (Oxford Martin School)

Mike Kendall, Ros Rickaby & Steve Smith in conversation
Monday 1 March, 1pm-2pm
To register and for more information: https://www.crowdcast.io/e/storing_carbon
Examining the impacts of Low Traffic Neighbourhoods (LTNs) (Oxfordshire Livable Streets)
Anna Goodman is an assistant professor at the London School of Hygiene and Tropical Medicine, specialising in the evaluation of sustainable transport interventions, with a particular focus on walking and cycling. Oxfordshire Liveable Streets has invited Dr Goodman to talk about her research into the impacts of LTNs, including the impacts of LTNs introduced between 2015-2019 on physical activity, car ownership, road traffic injury, street crime and emergency response times. Following the talk, Dr Goodman will answer questions in conversation with Oxfordshire Liveable Streets.
Friday 5 March, 12.30pm. Book your place here
Net Zero for local communities (Oxford Martin School)

Radhika Khosla, Kaya Axelsson, Nicole Yazon & Steve Smith in conversation.
Monday 8 March, 1pm-2pm.
To register and for more information: https://www.crowdcast.io/e/net-zero-for-local-communities
The Effective management of Lighting Towards net Zero (Church of England Environment Programme)

Bruce Kirk from Light Perceptions has designed lighting schemes for more than 200 parish churches and twenty cathedrals, and has 25 years experience as a DAC advisor.
This webinar will cover church lighting – in all forms. The focus will be on how changes in the use of lighting can impact positively on the goal of becoming net zero carbon. While LED lighting is now seen as the most efficient and effective light source, it is the extent of use and the management of lighting that determines the energy utilisation and the impact on carbon use.
Thursday 11 March, 4pm – 5pm – register here & Tuesday 13 April, 12-1pm – register here
Emerging technology and systemic risk – maintaining a secure and resilient digital infrastructure as we build back better (Oxford Martin School)

Prof Sadie Creese, Dr Jamie Saunders & Sir Charles Godfray in conversation.
Thursday 11 March, 5pm – 6pm
To register and for more information: https://www.crowdcast.io/e/emerging-technology-systemic-risk
To Replace or not to replace?(Church of England Environment Programme)
Susan Logan from EcoTeric is a Chartered Building Services Engineer who has worked for 40 years designing and advising on energy efficiency and latterly, carbon-efficient solutions. She has been the Heating Advisor for Worcester Diocese for the last 13 years and a member of the DAC for even longer. This webinar will tell you what you should think about when deciding to replace your heating and lighting. What are the implications for your carbon footprint and the historic context of the church? This will take in LED lighting, historic equipment, running costs, efficiency considerations, embodied carbon, maintenance for minimising carbon emissions.
Tuesday 16 March, 12-1pm – register here
Also: Tuesday 27 April, 4-5pm – register here & Tuesday 25 May, 6-7pm – register here
Solar PV Panels with special reference to churches and listed buildings (Church of England Environment Programme)
Guy Hewitt, from Treadlighter, has 11 years' experience of designing & installing Solar PV systems across all property types, including many projects for churches and listed buildings.
This webinar (relevant for private dwellings as well as for church buildings) gives an introduction to solar PV panel technology, its applications, usage and on-going benefits that accrue to system owners, the steps involved in developing a Solar PV project from assessment, survey, technical and electrical engineering design, council planning & DAC application and approval processes, the introduction of battery storage, information required from Churches in order to ensure proposals are as accurate as possible, moving on to the installation process, testing, commissioning & certification, on-going maintenance, and funding through the Smart Export Guarantee Scheme.
Tuesday 23 March, 6-7pm – register here
Held on 19 January and 9 February; available on: https://youtu.be/1NoswkTtFA4
Anglican Communion webinar: COP26, Divestment and Investment for Climate Justice
Thursday 25 March, 7:00pm-8.30pm
Register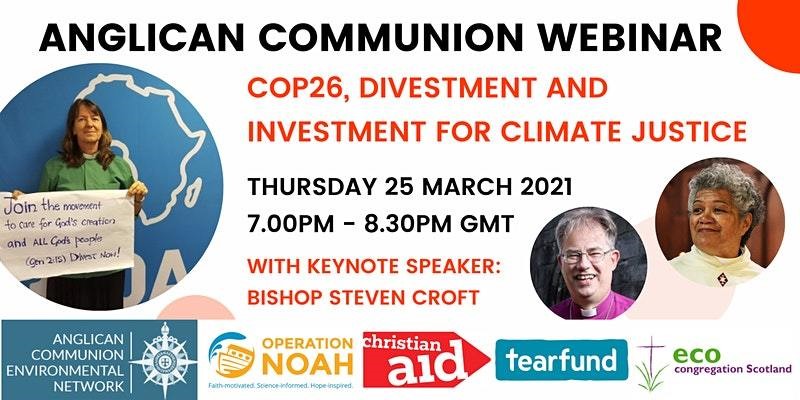 A free webinar exploring how Churches across the Anglican Communion can take action for climate justice by divesting from fossil fuels and investing in clean alternatives.
Speakers include Rt Revd Dr Steven Croft, the Bishop of Oxford, as well as Revd Dr Rachel Mash, Environmental Coordinator of the Anglican Church of Southern Africa and Secretary to the Anglican Communion Environmental Network. There will also be speakers from the Scottish Episcopal Church, the Church in Wales and Church of Ireland, as well as the Anglican Church in Aotearoa, New Zealand and Polynesia.
The webinar is being organised by Operation Noah in partnership with the Anglican Communion Environmental Network, Christian Aid, Tearfund and Eco-congregation Scotland.
Past webinars which are available to watch again
Church of England Environment Programme
This series of webinars is designed to support and equip you to reach the Church's ambitious "net zero carbon" emissions target; everything from forming your team to putting solar panels on your roof, and including low-cost 'housekeeping' actions which can pay back quickly. For everything about the programme, see https://www.churchofengland.org/about/policy-and-thinking/our-views/environment-and-climate-change/about-our-environment-programme
Oxford Martin School
Methodist webinar: The climate emergency, COP26 and fossil fuel divestment
Sponsored by Operation Noah, Christian Aid and the Methodist Zero Carbon Group.
The webinar on 15 Febriary explored how the Methodist Church can support a just and green recovery from Covid-19 ahead of COP26 by divesting from fossil fuels and investing in clean alternatives.
Bill McKibben, keynote speaker and founder of 350.org, expressed his gratitude to faith groups in the UK, including Operation Noah, 'who have been making this case (for divestment) for a decade'. He said that COP26 in Glasgow this year, 'could be a moment of great hope and great power', describing the growing power of the climate movement as seeing, 'the Holy Spirit at work'.