The Music Group sings at the 10.00 am communion service on the first Sunday of each month, and occasionally throughout the year at special services.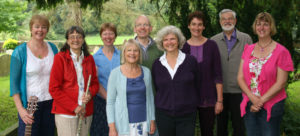 Many of the songs we sing originate from different countries around the world, deepening our connection with communities worldwide. The words we choose to sing are ecumenical and inclusive, often focussing on reflecting, praying and acting for justice, peace and the integrity of creation.
We love to sing and every rehearsal is a mixture of song, laughter and sharing. New members are always welcome, please contact us if you are interested!
Contact: musicgroup@hthq.uk